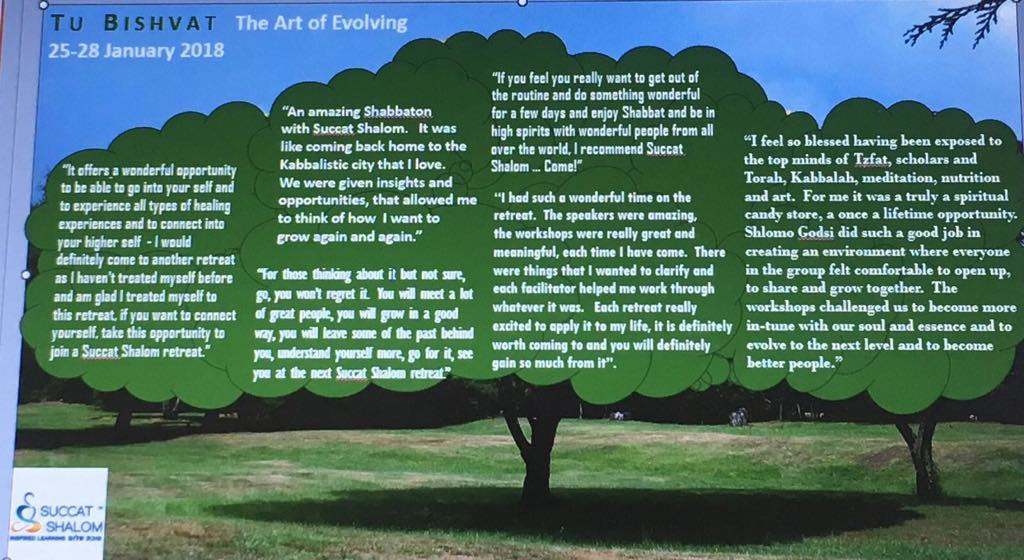 "Hey Shlomo, I wanted to thank you for providing and hosting such a lovely and memorable Shabbat dinner. I had such a good time and felt so welcomed in your home. You have a wonderful heart and I'm grateful to have met you. Stay in touch:)"
"I was lucky enough to spend a Shabbat with Shlomo and It was really an incredible Shabbat!! The food was amazing the hospitality the conversations that we had at the Shabbat meals were great. tZfat is just an incredible
place there is a feeling of spirituality and calmness that is almost tangible and I loved every moment of the Shabbat!!than you so much Shlomo and I look forward to coming again soon!! Thank you for an amazing Shabbat!"
I spent half a day in Jerusalem with Succatshalom last year.
It was so well planned, with meetings with various members of the Knesset and journalists.
Celebrating Yom Yerushalayim in such a way was thoroughly uplifting.
Well done to all the team and in particular to Shlomo who took care to make sure each of us felt really special and included.
I have participated in several of the shiurim, organised by Succat shalom for example Rabbi Heller on the Tania has been very inspiring. Personally, It has given me spiritual growth and inspiration to learn more about Kabala and Jewish Studies.

I also enjoyed learning about Pahad Itzhak, on the deeper meaning of Hanouka with Rabbi Hamer on Tuesdays. I always looked forward to his lessons. Rabbi Hamer exudes knowledge and kindness and delivered each lesson with enthusiasm.

Taking part in these Jewish studies have added great value and meaning into my life. I am grateful to Mr. Shlomo Godsi for all his hard work for organising and hosting these wonderful lessons.
I had the privilege to attend some of the Shiurim. My only regret is missing on the ones I was unable to attend as each and everyone of them, is enriching and fulfilling.
To be able to learn so much in a friendly environment is a ZECHUT and as such I appreciate all the effort Shlomo does in co-ordinating all the various topics and get the best speakers to teach us.
This review is after attended a wonderful Shiur on Rav Yitzchak Hutner's Pachad Yitzchak. The Shiur was deep and intriguing accommodated by warm and friendly company which helped to make it a truly wonderful evening of Torah and socialising. Not to mention the ample amounts of sushi which is always a nice bonus!😄
Our trip to Yerushalayim was packed with activities. We visited various sites across the city. Whether we had been to them before, or whether it was the first time, our knowledge of this unique and holy city only deepened.
During our trip, we had the opportunity to listen to many distinguished speakers and fascinating Divrei Torah, which were spiritually uplifting and stimulating.
We were also hosted by a number of inspirational individuals living in, and outside the old city.
We celebrated Yom Yerushalayim by King David's tomb, accompanied by Hazanim and Paitanim; an enlightening experience I will never forget.
For me, this trip enriched my knowledge and deepened my love for the city in a wonderful group atmosphere. It was an experience that will stay with me forever; one that I would only hope and look forward to repeating in the future.
Every shiur or event that I have been to by Succat Shalom has been either relaxing, fun or absolutely awe inspiring – and sometimes all three! Shlomo Godsi never fails to impress, and I am confident that Hashem will continue to bless him in all the work of his hands; because what Succat Shalom does is what Hashem wants.
"I wanted to thank you for organizing the wonderful Shuavuot trip to Israel for singles from around the world. I had a great time and met many wonderful people from all over. I now have new friends in Israel, South Africa, and New York that I am in touch with on daily or weekly basis. One of the presenters which I am now proud to call my friend, visited me here in Los Angeles just a few weeks ago.

One of the greatest things about this trip was the fact that it was geared toward older singles. There are plenty of organizations that target singles in their 20's and early 30's. But there are very few organizations that successfully organize such trips for older singles. In fact, I can't even name one. And those organizations that make attempts to create such events, generally do not succeed because of the high cost and lack of funds.

Being single among an Orthodox community, which very much revolves around family, can be quiet challenging and lonely. And many communities tend to pay little attention to older singles while the number of singles in this age category continues to increase.

Succat Shalom however, managed to bring a group of like-minded singles together from around the world. This was a group who cared about their personal growth and were able to share meaningful experiences, and create connections that went beyond superficial friendships. It allowed everyone to spend the Chag together with joy, away from the usual uncomfortable holiday experiences.

A few of my friends wanted to go on this trip but unfortunately couldn't afford it. I am personally very thankful to have had the opportunity to make it. I had many unusual, miraculous spiritual experiences before, during, and after trip which I will be glad to share at a later time. I am sure a major reason for it all was the pure intentions of the organizers of the trip.

Before going on this trip, I was a bit unhappy over continuous challenges of single-hood. But the trip gave me a different perspective on life and gave me such spiritual strength that I continue to carry till this day.

Thank you for caring and may Hashem bless you with much success on your future events.