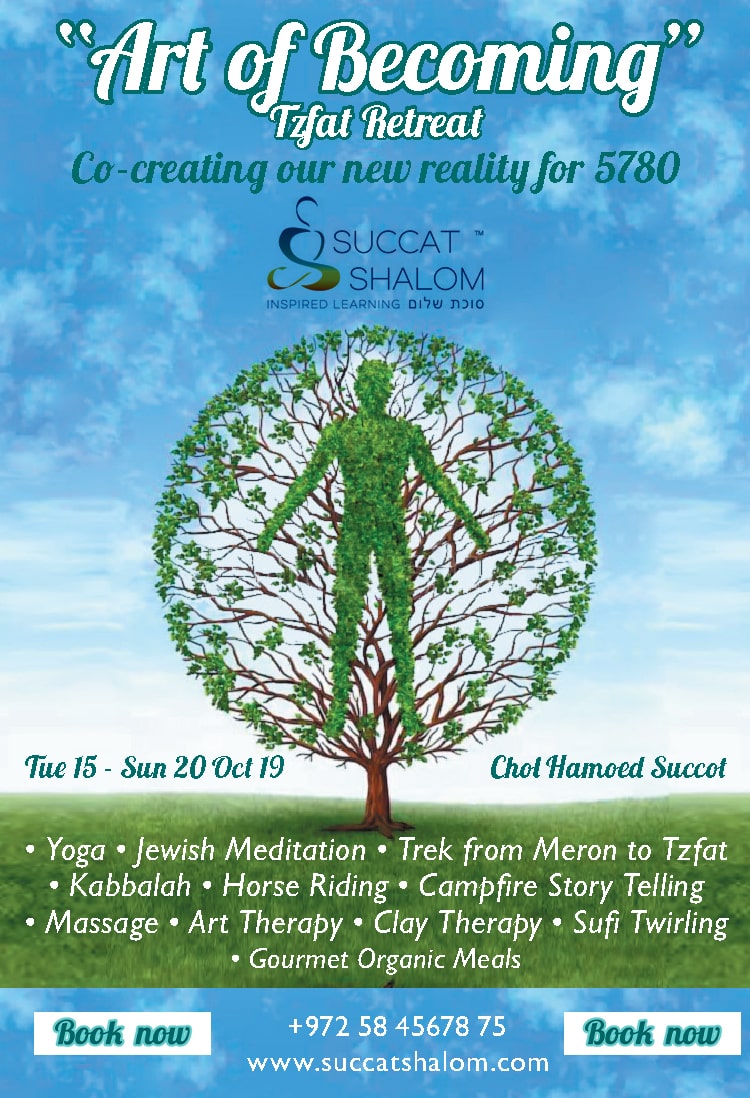 "THE ART OF BECOMING" – TZFAT RETREAT – 15-20 OCT 2019
Succat Shalom is delighted to extend to you an exclusive invitation to our "ART OF BECOMING" Retreat, in Tzfat,  15-20 Oct 2019.
When:
This is our 12th retreat and will take place Chol Hamoed Succot. Our 6 day (5 night) retreat will start on Tuesday 15 Oct 2019 at 11.00am and will end on Sunday 20 Oct 2019 at 5.00pm.
Location:
We will be located in one of the most spectacular luxury Garden Vilas. This unique property is fully private and secluded, yet a few minutes walk to the Old City of Tzfat. It is a natural haven of tranquillity and peace. A perfect location to detox from the stress of modern life and to achieve the ground breaking transformation we are hoping to facilitate.
Accommodation:
You will be sharing a large double bedroom with another participant. There is a large modern and spacious kitchen which is where we will be serving most of the meals. There is also a large open lounge which is furnished with soft Moroccan style cushions. The property is surrounded by the most magnificent wild garden, a haven for birds and other rare breads. There is a large and beautiful Succah and several meditation areas and a super comfortable fabric hammock. The large roof terrace offers magnificent views overlooking Meron and is the perfect location to marvel at the art and colours of the Creator as the sun sets each night.
Why Now:
Why Now:
Every Jewish festival contains a special energy, and the energy of Tishrei is the month that we co-create ourselves in readiness to receive the abundant blessings Hashem wants to bestow on us for the year 5780. The whole process starts from Rosh Hashana to Yom Kippur then to Succot and culminating in Simchat Torah, in a fabulous transformation of each being, into the best version of ourselves.
Food:
The retreat will serve 3 healthy meals a day, using the finest organic ingredients we can find. Fresh and healthy, mainly plant and grain based menus' will be offered. Feel free to bring your own snacks where necessary. So you can use this time as a partial detox from any unhealthy foods you might have got used to.
Kashrut:
The meals will be prepared by one of Tzfat's leading new chefs, who used to own a Kosher restaurant in the USA, but there will not be a mashgiach on site.
Participants:
You will be sharing this magical experience with a selected number of other like-minded participants from across the world. The retreat is open to all ages and all status.
Facilitators:
Eliezer Newman:
Our beloved Eliezer Newman will guide us through a series of experiential sessions aimed at helping us to visualise our true potential. We will also learn to recognise the fears and constraints we are still holding on to, that no longer serve us, and to help us let them go. This is Eliezer's 6th Retreat with us and we keep invite him back because he is so good at gently allowing us to perceive ourselves from a new perspective of clarity. This is an intimate group and we often learn more from the sharing of other participants.
Rabbi Alon Rom: Rabbi Rom has just opened the Kavana Centre in Tzfat – aimed at teaching Advanced Kabbalah in English for those interested in understanding the deeper concepts of Kabbalah. He combines his teachings with excellent practical Meditation sessions, which allow us to integrate what we learn into our daily program.
Rabbi Shalom Pasternak: Rabbi Pasternak is head of the wonderful English speaking Yeshiva Temimi Derech in Tzfat. He has the wonderful ability of explaining very complex ideas in a very understanding way. We are so grateful he is able to be part of our program.
Shalom: Shalom is a very talented musician and composer. He is in the process of producing his own album and has led several Birthright groups. His soul flies when he sings.
Why Tzfat:
Tzfat is one of the spiritual capitals of the world. The ancient mystics describe it as one of the gateways between heaven and earth. It is where the Kabbalah and the Shulchan Aruch were brought into the world. It has a population of 30,000 and visited by over 1.2 million people each year. Everyone that comes to Tzfat feels the spiritual energy here, whether they are religious, or non-religious, Jewish or non-Jewish. Tzfat was one of the 42 cities of refuge, one of the Levite cities and it welcomed all travellers without judgment. It's a perfect destination for all those looking for a deeper spiritual connection.
Cost:
Full 6 Day Program including all meals, treatments, activities and Luxury Villa Accommodation – NIS 4900
Full 6 Day Program in standard Tzimmer accommodation nearby – NIS 3700
Full 6 Day Program in your own accommodation – NIS 2500
Daily Rate in your own accommodation – NIS 500.
Summary:
Friends this promises to be an amazing, possibly life changing retreat. The ability to co-creating our reality is perhaps the greatest gift that Hashem has given us. Come join us and let us together, perceive the beauty in ourselves and in each other. Come and break through the walls of our resistance, so that we can bask in Hashem's blessings, and become the awesome divine beings we were born to be. I really hope you can join us and give yourself this most precious of gifts!
STEP 1: To book now, please fill in the booking form below:
STEP 2: Select your Payment Option and secure your reservation.
I spent half a day in Jerusalem with Succatshalom last year.
It was so well planned, with meetings with various members of the Knesset and journalists.
Celebrating Yom Yerushalayim in such a way was thoroughly uplifting.
Well done to all the team and in particular to Shlomo who took care to make sure each of us felt really special and included.
I have participated in several of the (events), organised by Succat shalom for example Rabbi Heller on the Tania has been very inspiring. Personally, It has given me spiritual growth and inspiration to learn more about Kabala and Jewish Studies…
Taking part in these Jewish studies have added great value and meaning into my life. I am grateful to Mr. Shlomo Godsi for all his hard work for organising and hosting these wonderful lessons.
I had the privilege to attend … My only regret is missing on the ones I was unable to attend as each and everyone of them, is enriching and fulfilling.
To be able to learn so much in a friendly environment is a ZECHUT and as such I appreciate all the effort Shlomo does in co-ordinating all the various topics and get the best speakers to teach us.
Shlomo's vision for personal development and creating connection, perfectly aligns the elements of experiential learning, profound personal growth and fun. Wishing him every success for both the Herzliya retreat this Shavuot as well as for Succot.
'I attended the laughter experience, not sure what it was going to be like and knowing this could be out of my comfort zone. But I have to say by the end of the evening I laughed so much that it did me a world of good emotionally, physically and mentally'
"Thanks for organizing the trip and bringing international singles together. Quite an accomplishment!"
I was lucky enough to spend a Shabbat with Shlomo and It was really an incredible Shabbat!! The food was amazing, the hospitality, the conversations, that we had at the Shabbat meals, were great. Tzfat is just an incredible place. There is a feeling of spirituality and calmness that is almost tangible and I loved every moment of the Shabbat!! Thank you so much, Shlomo and I look forward to coming again soon!! Thank you for an amazing Shabbat!
"I was lucky enough to spend a Shabbat with Shlomo and It was really an incredible Shabbat!! The food was amazing the hospitality the conversations that we had at the Shabbat meals were great. tZfat is just an incredible
place there is a feeling of spirituality and calmness that is almost tangible and I loved every moment of the Shabbat!!than you so much Shlomo and I look forward to coming again soon!! Thank you for an amazing Shabbat!"
"Hey Shlomo, I wanted to thank you for providing and hosting such a lovely and memorable Shabbat dinner. I had such a good time and felt so welcomed in your home. You have a wonderful heart and I'm grateful to have met you. Stay in touch:)"