Registration Options Below:

Payment Option A – Learn to Attract Your Soulmate at The Shavuot Retreat – Full 7-Day Program
$995 per person. One payment in full.
9-16 June – A 7-Day Fusion of Fun & Experience.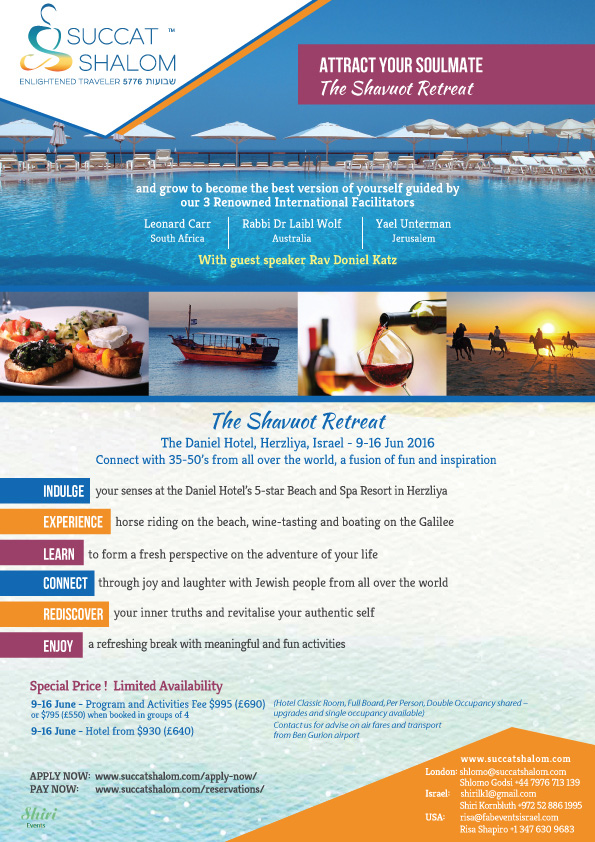 This is for the Program + Activity Fees only & excludes accommodation.
Payment Option B – Experience The Jewish Law of Attraction – A 3-Day Experiential Dynamic Workshop
$295 per person. One payment in full.
13-15 June – 3 Day Experiential Dynamic Workshop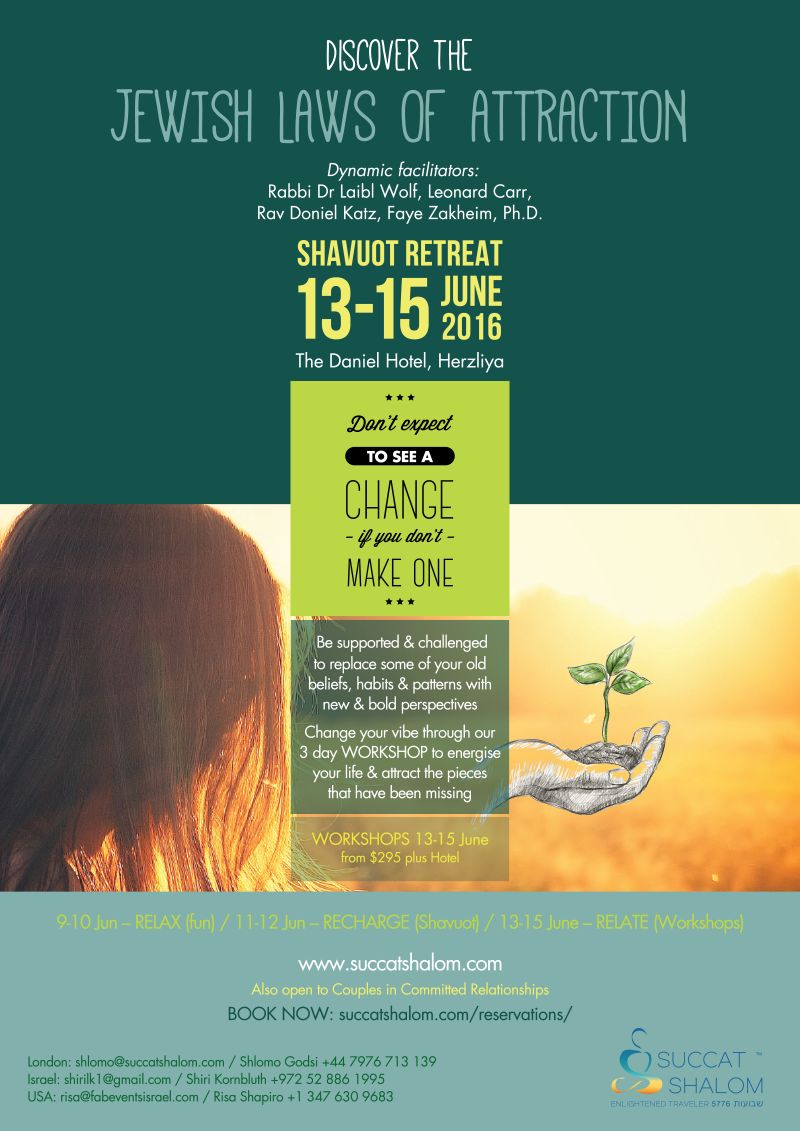 This is for the Program + Activity Fees only & excludes accommodation.
Itinerary  (subject to change)
Thursday 9 June: Registration – Group activity : Orientation & Greeting Exercise – Horse Riding on the Beach – Workshop – trust building & Appreciative Hosting
Friday 10 June: Movement – Workshop: Object Share – Beach & Pool
Shabbat 11 June: Shabbat with full program for Tikun Leyl
 
Sunday 12 June: Shavuot – Evening Kumzitz on the Beach
Monday 13 June: Group Activities – Gender Issues & Unconscious Blocks & Dating Challenges – Wine Tasting
Tuesday 14 June: Group Activities and Role Plays – Live Evening Concert
Wednesday 15 June: Group Activities – Contents and Container – Sex and Sensibility –  Closing evening Ceremony
Thursday 16 June: Optional Tour to Amuka, Tzfat & boat ride on Kinneret
IMPORTANT NOTE ABOUT THE HOTEL ACCOMMODATIONS:
We have arranged a discounted rate for all our registered members at the Daniel Hotel. The cost per room from 9-16 June is $2400 for two people sharing ($1200 each). This includes Breakfast each day and half board to cover your evening meal. For Shabbat and Shavuot, you will enjoy full board (Breakfast Lunch and Dinner) within this price. Payment for the rooms will be taken by the hotel using your preferred credit card and this will be processed by Shiri Kornbluth (tel +972 52 886 1995) to ensure that you have a suitable sharing partner. You can also choose to arrange your own accommodations.
Images of the Resort for the Singles Shavuot Retreat
The Daniel Hotel in Herzliya
What Others Are Sharing About Their Experience With Succat Shalom Institute

I spent half a day in Jerusalem with Succatshalom last year.
It was so well planned, with meetings with various members of the Knesset and journalists.
Celebrating Yom Yerushalayim in such a way was thoroughly uplifting.
Well done to all the team and in particular to Shlomo who took care to make sure each of us felt really special and included.
I have participated in several of the shiurim, organised by Succat shalom for example Rabbi Heller on the Tania has been very inspiring. Personally, It has given me spiritual growth and inspiration to learn more about Kabala and Jewish Studies…
Taking part in these Jewish studies have added great value and meaning into my life. I am grateful to Mr. Shlomo Godsi for all his hard work for organising and hosting these wonderful lessons.
I had the privilege to attend … My only regret is missing on the ones I was unable to attend as each and everyone of them, is enriching and fulfilling.
To be able to learn so much in a friendly environment is a ZECHUT and as such I appreciate all the effort Shlomo does in co-ordinating all the various topics and get the best speakers to teach us.
This review is after attended a wonderful Shiur on Rav Yitzchak Hutner's Pachad Yitzchak. The Shiur was deep and intriguing accommodated by warm and friendly company which helped to make it a truly wonderful evening of Torah and socialising. Not to mention the ample amounts of sushi which is always a nice bonus!😄
"Shlomo's vision for personal development and creating connection, perfectly aligns the elements of experiential learning, profound personal growth and fun. Wishing him every success for both the Herzliya retreat this Shavuot as well as for Succot."
This is NOT a typical Singles Holiday. This is a fusion of classic Rabbinic Chinuch with contemporary techniques in personal growth and development. It is a unique and innovative opportunity to bring together 100 great singles from across the world, to engage, debate, discuss and be challenged to grow and facilitate the growth of others, in a warm, safe and natural environment from which to assess the suitability of a potential partner. We will be creating a community of like-minded spirits to connect in a deep and meaningful way.
We have invited 5 of the world's leading Mentors to give over their knowledge and experience so that we can improve in the "Art of Relationships"
Cancellation, Revision Fees and Refund Policy
In the event that a traveler wishes to cancel his/her Singles Pesach  reservation, requests must be made in writing by email to Shlomo@SuccatShalom.com. The following cancellation/refund policy will be followed:
| | |
| --- | --- |
| Days Prior to Vacation Departure | Amount of Refund |
| 61+ Days | Full refund minus US $500 cancellation fee |
| 30 – 60 Days | 25% cancellation fee |
| 15 – 30 Days | 50% cancellation fee |
| Within 14 Days of Departure | 100% cancellation fee |